<![if !supportLineBreakNewLine]>
<![endif]>

Press release
Format: CD + DVD
Title: l'Eau
Group: mp3trio

René van Helsdingen- piano, Marcello Pellitteri- drums, Essiet Okon Essiet- bass
Ted Trimble- bass, Martijn van Beenen- video/film,
Christophe Agou- photography, Michél A. Thérien- poetry, Rita Rinci- painting
Label: demajors
Catalogue nr: DIMI 234
demajors Independent Music Industry (DIMI), Jakarta
release date: August 2012
Arranged, improvised and free music for piano and piano trio.

A new jazz release based on a simple concept:
no names - no profiles - no bios - just a band
A treeo where roots and minds intertwine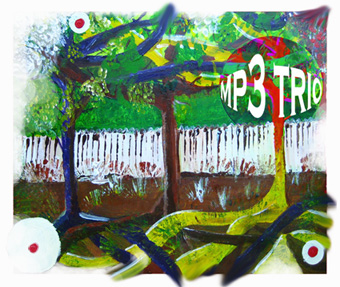 Music played by a pianist, a bassist and a drummer,
packaged, presented and described by a poem, a painting, photography and film,
distributed by an Indonesian label.
The recording session took place at the Bennett Studios, Englewood, New Jersey, April 24-25-26 , 2010 and resulted in a story about peace, love, freedom and water.
The power of improvisation, performed, recorded, captured and visualized by artists and engineers with established reputations.

Liner notes and facial video shots have been omitted -allowing time and space for its discerning audience.
It doesn't really matter who 'they' are,