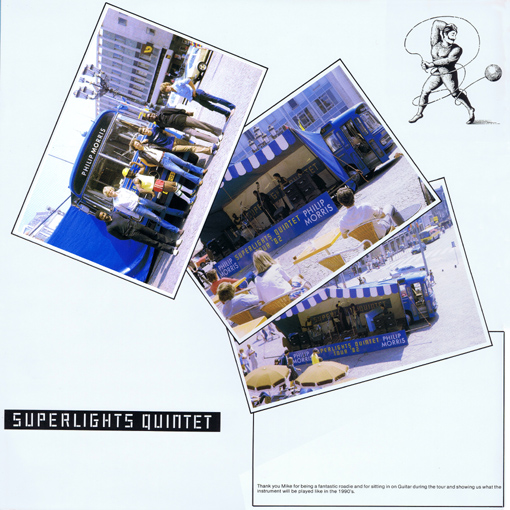 Cover design: Martien J. Ulder - drukkerij Slinger, Alkmaar, NL
Cover text - English
Munich BM 150245 / Made in Holland
Cover text created in 1982 (biographical information out of date)
OBIE JESSIE: Vocals.
KENT BRINKLEY: Bass (on the album)
ESSIET OKON ESSIET: Bass. (during tour 82)
DON MUMFORD': Drums.
PETER GUIDI: Sax.
RENE VAN HELSDINGEN: Piano.

<![if !supportLineBreakNewLine]>SPONSORS:<![endif]>
Special thanks to:
PHILIPS MORRIS HOLLAND BV for giving us your name and support: SUPERLIGHTS;
Alphen a/d Rijn: BEX BUSREIZEN for two wonderful afternoons in Den Haag and for your support;
Bennekom: MUNICH RECORDS for recording; Edam: BOSE BV: for the sound Equipment; Amsterdam: VAN WOUW BV: for your advertising; Bussum: BUCA BV: for the VAN ZALINGEN bass. CHRIS BECKERS: for being there. COUPONHAL Hilversum: for carpeting our bus. KRULLEKOEK. Roadies: JANJAAP LAMME, MARCO MEIER, VALENTINO DE MAREZ OYENS, FREDDIE ZOMER, MIKE MENDELBAUM, HUUB GEUL: for driving 18.000 km and taking it all.Sound engineer: PIM GUNZEL. Alkmaar: DRUKKERIJ SLINGER BV: for beautiful printing and support. Amsterdam: COCO LOCO NIGHT CLUB: for your promotion. Loosdrecht: HOTEL DE WATERWOLF: for letting us have a place to stay. BOVO TOURS Roelofarendsveen: where else can you buy a bus. Laren: NICK VOLLEBREGTS JAZZ CLUB: for your support and rehearsal space. Radio: PAUL VAN SCHAYK, META DE VRIES. DAM AIR Amsterdam for your service and support. Photography: GEORGE REEP, RICHARD MONTIJN, AART MARCUS for being super roadie. ITS VAN DE SCHOUW for your presentation. Also special thanks to: Jan van Helden, Jaap Stamer, Anita Green, Familie Manders, Cees ten Broek, Emilio de Vlam, Anneke Kroon, Rob Houer, Henk Zomer, Max Teeuwisse, Henk Huisin'tveld, Maria ten Brink, Café de Jonge Haan, Peter van Wije, Ton Molkenboer, LIMETREE RECORDS, Gartjan Borgers, Jord de Hollander, Nol van Bennekom, Ben and Nancy, Francine van Wijhe and Martien Ulder, Marcel Ballieu, Familie Melleger, Norman Dolhair, Han Schulten, De Ruwaerd, Buck Hill, Ronald Snijders, Rob Franken, John de Mol, Luc Verfaillie, J.M. Hacquier, Henk and Menko ten Kate, Robert Delcourt, Rob Cuypers, Peter Hoekstra, Henny van Leeuwen, Mark Jansen, Michiel van Zundert, Martin Kesseler, Theo Inniger, Wim van Woerkens, Tiny van het Klooster, Jean Frederic Mekke, Gerard de Lange, Piet Scheltema, Charles van de Rest, Jimmy Vollebroek, Paul Rozenboom, HOTEL GROENEWOUD BENNEKOM, CC van Helsdingen, Mouchette van Helsdingen, Irene van Duyvenvoorde, Olav Nooy, Freddy Zomer, Wouter Castendijk, Jan Lamphe, Laurance Manders, Muriel van Mameren, Anton and Wim Geul.

Special thanks to Mr. Ten Have, Familie Pieper. PRODUCTION: RENE VAN HELSDINGEN. This album was recorded and mixed on 28 and 29th of August 1982 at FARMSOUND STUDIO HEELSUM HOLLAND. (Thanks engineer Wil Hesen for the great life sound)

KENT BRINKLEY,
has played with many influential musicians on the jazz scene. From Art Blakey and the Crusaders to Esther Phillips and Freddie Hubbard as well as many others. Brinkley brings the professional sound and imagination to wherever he plays, concert, studio or record. There is only one way of describing Kent Brinkley's style of playing: HIS OWN.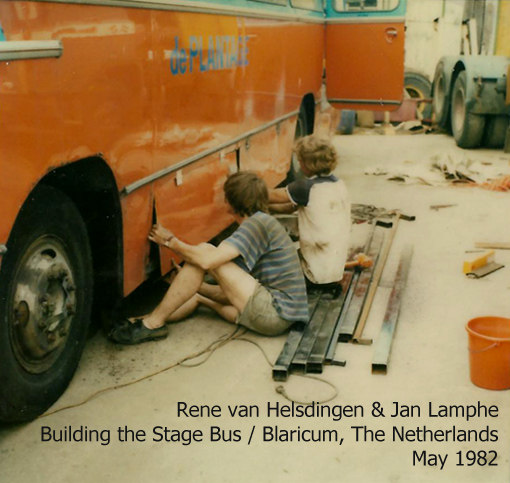 RENE VAN HELSDINGEN – Birth of the Stage Bus / 85 concerts, Holland and Belgium

To promote oneself is a very risky business especially when you do not have a large organization to back you up. In the month of April 1982 I thought up the idea of the "JAZZ BUS (STAGE BUS)" and by the 4th of September the tour was over. The whole thing took just 5 months. "Tour 82". I have always been convinced that you make an impression on the listener by doing something unusual. "Anybody can put up poster", I thought, "but who drives around in a crazy jazz bus (the Stage Bus). So with a folder of cartoon drawings to illustrate my ideas, I went on the road. I wanted the presentation to be funny but at the same time convincing. After the first 10 bookings things started moving fast. "Ïn the afternoon we'll park the bus in the busiest part of town and do a 1 hour concert which will serve as a great publicity for your evening concerts", I told the club owners. "I guarantee you a full house" The plan was completed. The band on the road with the Stage Bus giving afternoon performances in the open air, a stage of steel framework 7x3 meters was going to be constructed and welded together for the band to play on. But then things became risky as I had already made part of the bookings without taking into consideration the finances needed to put such a thing together. Welding the Stage for example, was going to cost a lot of money and it was almost time to make airline ticket reservations for the American musicians to come over to Europe. After many attempts with several different companies, one company, Philip Morris, finally took to the idea and after that other sponsors followed. By June 1982 the program for the tour was completed: 85 concerts throughout Holland and Belgium. The next angle to take care of was publicity. I quickly designed some posters and program flyers for immediate distribution. During this time we were also working on the 1963 Mercedes bus which needed to be refitted. Ten seats were put in we created storage space for sound installation, stage, folding chairs for the public, commercial signs and in the rear of the bus six beds where we could relax whilst traveling from one concert to the other. Under the bus we installed a system of racks on which we could load the foldable wooden planks that made up the floor of the stage. On the roof we welded a pole which was to serve as one of the main supports for the tent and a coat of fresh paint made the Stage Bus look like new. Three days before the tour the bus was ready and the musicians had arrived from the USA at our headquarters in central Holland to start rehearsing the music. The 30th of June the last messages were sent to everyone involved in the tour letting them know that the tour would start as planned: July 1st 1982.


OBIE JESSIE – 85 concerts
Obie Jessie, the singer with the Superlights Quintet, was born 45 years ago in Dallas Texas. For many years he has been living and working in Hollywood Los Angeles. In the fifties under the name of Young Jessie, he composed his first big hit: Mary Lou. After this, many other beautiful hit songs poured from his heart and pen. He also composed for Frank Zappa, Esther Philips, Bob Segar etc. During the tour in 1982 he performed many of his own songs of which "I am people too" never failed to get the audience singing along with the band. He impressed everybody no matter what their musicale background, with his warm velvety sound, his suppleness and his complete command of many vocal styles. For example those outstanding vocal acrobatics which in the language of jazz are known as scat singing. With a tremendous understanding of showmanship, Obie Jessie always appeared on stage with a sharp suit and a smile.
<![if !supportLineBreakNewLine]>
<![endif]>